Leading Trade Fair for Deburring Technologies
and Precision Surfaces
14 - 16 October 2025
Trade Fair Center Karlsruhe
Components are machined, formed, primary formed, forged, stamped, cut, sintered, moulded, eroded or additively manufactured.
Exhibitors offer know-how and solutions for the resultant demands placed upon deburring technologies in the form of systems, processes and applications, as well as services. New products, further developments and trends are presented, and practical as well as theoretical knowledge is imparted.
Excellent opportunities for positioning one's company as a supplier, comparing oneself with the competition and recognizing trends at an early stage.
Well-Prepared Visitors with Concrete Tasks
"It was definitely the right decision to participate at DeburringEXPO. Before the event opened, we didn't expect so many well-prepared, thoroughly informed and highly focused expert visitors.

Both existing customers with new projects and potential new customers with running projects took advantage of the opportunity to engage in intensive discussions at the trade fair, and to find solutions.

For KADIA it was also very important to assess the market and the sectors we've been getting involved in recently, which are far removed from routine daily business. Customers and other interested parties provided us with confirmation in this regard at the event, and we've been able to define additional goals."

Jannik Weiss, KADIA Produktion GmbH + Co.
Perfect Platform for Product Presentation and Networking
"Despite the prevailing uncertainty as to how many visitors would come, it was clear to us that we would definitely exhibit again. As deburring specialists, the trade fair offers us a perfect setting for presenting our products. The option of being able to hold a technical presentation in addition to the exhibition is also an important building block for us.

Lots of our customers took advantage of the opportunity and came to our booth with specific tasks, always looking for the best solution. And we had the benefit of valuable discussions with people from a broad range of sectors at many different levels – right up to managing directors. In conclusion, we can say that we were very satisfied."

Mathias Lupfer, Heule Germany GmbH
A must for solution seekers in the field of deburring
"The visit to DeburringEXPO will be a must for me. Here I meet all the leading suppliers from home and abroad. Within one day, I immediately receive solution-oriented suggestions for my current deburring requirements. solution-oriented proposals.

There is current technology and a lot of new things to discover. The problem-free journey, as well as the atmosphere at the DeburringEXPO, are optimal. Every exhibitor is well prepared for questions, understands my problem and shows me ways to the best possible solution. A visit to the trade show could not be more effective and pleasant."

Ekkehard Czerny, Meister Werkzeugbau, NAGEL Maschinen- und Werkzeugfabrik GmbH
More statements
More exhibitors' comments on DeburringEXPO 2023 can be downloaded here as a PDF.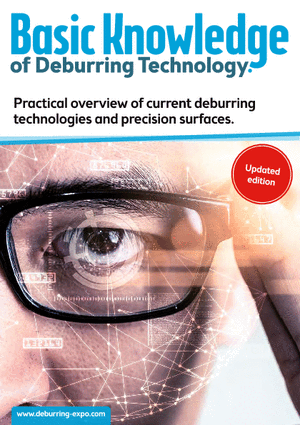 The new edition of the brochure Basic Knowledge Deburring Technology is now available for you to download.
With a subscription to the DeburringEXPO newsletter you will always receive the latest information first. Here you can subscribe to the DeburringEXPO newsletter.
DeburringEXPO 2021
Get an impression yourself and see opinions, dates and impressions of the trade fair 2021 in our short film (German language). For automatic subtitles and translation you can view the short film also here on Youtube.