DeburringEXPO expert forum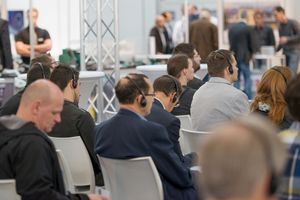 Added value for visitors and exhibitors

Offerings presented at DeburringEXPO are rounded with a 3-day, integrated expert forum - for interlinking theory and practice even more. All presentations will be simultaneously interpreted German <> English. The expert forum imparts fundamentals and expert knowledge concerning innovative deburring technologies and precision surfaces to the visitors by means of practical examples and benchmark solutions.
Programme expert forum | Tuesday, 10 October 2023
Mechanical deburring
10:00 a.m.
Process-reliable deburring of undefined workpiece contours
Steffen Hedrich | Kempf GmbH - Sonderwerkzeuge in Präzision
10:30 a.m.
Combining Deburring and Drilling saves time
René Kehl | Heule Werkzeug AG
11:00 a.m.
Digital process water management
Eva Konitz | Rösler Oberflächentechnik GmbH
11:30 a.m.
Effects of post-processing methods on the surface properties of additive manufactured plastic components
Mark Becker | Fraunhofer-Institut für Produktionstechnik und Automatisierung IPA
12:00 p.m.
DEM Process Simulation: The Key to Tomorrow's Centrifugal Disc Technology
Florian Reinle | OTEC Präzisionsfinish GmbH
12:30 p.m.
Anticipation of the edge rounding during the post-processing of additively manufactured parts through centrifugal disc finishing
André Rozek| Institut für Werkzeugmaschinen und Fabrikbetrieb IWF
01:00 p.m.
FLAKKOTING, precise deburring
Patrick Botta | PROFIN Progressive Finish AG
01:30 p.m.
Processing of internal surfaces by AFM (Abrasive Flow Machining)
Daniel Seifert | 4MI GmbH - Surface Solutions for Metal Industry
Programm expert forum | Wednesday, 11 October 2023
Quality Assurance
10:00 a.m.
An Introduction to Quality Assurance in Deburring
Christopher Krebs| Institut für Produktionstechnik, Technologie und Werkzeugmaschinen (PTW), TU Darmstadt
10:30 a.m.
Digital Holography - Opportunities in modern quality assurance
Andreas Hofmann | Fraunhofer-Institut für Physikalische Messtechnik IPM
11:00 a.m.
Visual inspection of surface characteristics based on specified quality parameters
Christian Hollands| SPALECK Oberflächentechnik GmbH & Co.KG
Automated deburring
11:30 p.m.
Robotic Finishing Cell (RFC): Deburring consistency to high-part quality with a limited workforce
Teemu-Pekka Ahonen | Fastems Systems GmbH
12:00 p.m.
Relieving workers from dull, dirty and dangerous tasks or how to deal with labour shortage
Felix Eißele| SCHUNK SE & Co. KG
12:30 p.m.
Robot-assisted surface processing - how simple implementation and robust processes succeed
Christopher Abel | ArtiMinds Robotics GmbH
Cleaning after deburring
01:00 p.m.
Cleaning starts with the basket / tray
Matthias Teller | METALLFORM Wächter GmbH
01:30 p.m.
Cleaning after thermal deburring
David Bartels | Höckh Metall-Reinigungsanlagen GmbH
02:00 p.m.
Cleaning and Micro deburring with "quattroClean": dry, automated, one-piece-flow
Hans-Jörg Wössner | acp systems AG
Programm expert forum | Thursday, 12 October 2023
Non-mechanical deburring
10:00 a.m.
Deburring, polishing and cleaning of mechanical and
additively manufactured workpieces by means of electrolytic plasma polishing
Matthias Kroll | plasotec GmbH
10:30 a.m.
Cryogenic Deburring – remove burr freezing
Christian Klein | AW Maschinen- und Anlagentechnik GmbH & Co. KG
11:00 a.m.
Ultrasonic deburring - sharp edged but free of burrs
Thomas Benzing | ultraTEC innovation GmbH
11:30 a.m.
Thermal Deburring – Process and Applications
Adrian Grodzicki | ATL Anlagentechnik Luhden GmbH
12:00 p.m.
Smart IoT solutions for the ECM process
Thomas Glatz | Ralf Eilert
EMAG ECM GmbH
12:30 p.m.
New applications, new challenges for the ECM Technology
Markus Krings| Extrude Hone GmbH
01:00 p.m.
Experiences with additive components in surface finishing
Markus Wagner | Perfect Finish GmbH