DeburringEXPO expert forum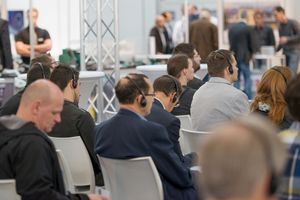 Added value for visitors and exhibitors

Offerings presented at DeburringEXPO are rounded with a 3-day, integrated expert forum - for interlinking theory and practice even more. All presentations will be simultaneously interpreted German <> English. The expert forum imparts fundamentals and expert knowledge concerning innovative deburring technologies and precision surfaces to the visitors by means of practical examples and benchmark solutions.
The program for DeburringEXPO 2023 will be available at July 2023!
Programme expert forum Tuesday, 12 October 2021
Mechanical deburring - Quality inspection of egdes and surfaces
10.00 am
Evaluation of different trajectory strategies for deburring cross drilled holes with a ball end cutter
Christopher Krebs, Institut für Produktionstechnik, Technologie und Werkzeugmaschinen (PTW), TU Darmstadt
10:30 am
Deburring of holes from Ø1.0mm - standard and customer specific
René Kehl, Heule Werkzeug AG
11.00 am
Automated cross hole deburring solutions
Steffen Hedrich, Kempf GmbH
11.30 am
Deburring of strips and workpieces by metal-cutting method
Marco Chiesura, Heinz Berger Maschinenfabrik GmbH & Co. KG
12:00 noon
Optical metrology for precision sufaces - applications and challenges
Matthias Pauli, Polytec GmbH
AM Parts Finishing
12.30 noon
Why is additive manufacturing on its own not enough?
Stefan Mischliwski, Institut für Produktionstechnik, Technologie und Werkzeugmaschinen (PTW), TU Darmstadt
13:00 noon
Finishing of mechanical and additively manufactured workpieces by means of electrolytic plasma polishing
Tobias Weise, plasotec GmbH
13.30 noon
Abrasive Flow Machining – a post process for parts made by Laser Powder Bed Fusion
Detlef Bottke, 4mi GmbH
14.00 noon
Optimisation of efficiency sensitive ALM components through improved surfaces
Thomas Friess, Extrude Hone GmbH
Programm expert forum Wednesday, 13 October 2021
Deburring with

special machines
10.00 am
Serial production of burr-free hydraulic components with electrochemical deburring and machining processes
Hans-Joachim Konietzni, stoba Sondermaschinen GmbH
10.30 am
Cryogenic Deburring of rubber-, NF-metal- and technical plastic molding parts without altering surface texture and material properties, 100% free of distortion
Ralf Sinner, MEWO GmbH & Co. KG
11.00 am
Production possibilities of (P)ECM. Why not burr free machining?!
Manuel Steinhauer, EMAG ECM GmbH
11.30 am
Deburring and Polishing of small parts with Micro-Vibratroy-Finishing
Jochen Wagner, MAW Werkzeugmaschinen GmbH
Cleaning after deburring
12.00 noon
Optimizing of cleaning processes
Jens Emmerich, OQEMA GmbH
12.30 noon
Water based parts cleaning after thermal deburring
Thomas Gutmann, MAFAC - E. Schwarz GmbH & Co. KG
13.00 noon
The perfect Surface:
Dream or already reality?
David Bartels, Höckh Metall Reinigungsanlagen GmbH
13.30 noon
Integration of downstream precision cleaning processes into the main Piller high pressure deburring concept
Matthias Wadle, Piller Entgrattechnik GmbH
Programm expert forum Thursday, 14 October 2021
Surface finish
10.00 am
Dry processing in a tumble drum
Andreas Haller, Avatec GmbH
10.30 am
ECM rounding and polishing on high-value, functional work pieces
Robert Binder, Extrude Hone GmbH
11.00 am
Automated optical quality inspection of precision surfaces
Klaus Donner, alfavision GmbH & Co. KG
Automated deburring with robots
11.30 am
The three most important questions you should ask before automatizing with robotics in your manufacture
Andreas Schneider, Robofunktion Systems GmbH
12.00 noon
Flexible automated material removal: Simple implementation & easy operation of robots made possible by software
Simon Preiser, ArtiMinds Robotics GmbH
12.30 noon
Robotic mechanical deburring: Economical post-processing for various materials and geometries
Felix Eissele, SCHUNK GmbH & Co. KG
13.00 noon
Automated flexible workpiece deburring with the IR - Industry 4.0
Guido Sturm, SturmConsultants | ST-SturmTEC Systeme GmbH
Reinhold Stehle, SHL AG