Theme park – Cleaning after deburring
source: HOBART GmbH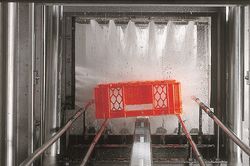 Market leaders and industry experts present the entire process chain of cleaning in the theme park "Cleaning after deburring".

The requirement-based component cleanliness after deburring requires the determination of the appropriate cleaning method, the selection of the suitable cleaner, matched to the component material and geometry as well as the contamination and the optimum layout of the system technology. Continuous monitoring of the cleaning process and its control for stable component cleanliness ensure quality-assured and cost-effective process control.

The exhibitors in the theme park will present systems and procedures for aqueous cleaning and cleaning with solvents, the appropriate cleaning chemistry as well as product carriers and washing baskets for optimal cleaning results, measuring and testing procedures to determine and document the required component cleanliness, demagnetization to reduce the adhesion of the particles and thus support the cleaning process positively.

Visitors to the information booth of the FiT - Fachverband industrielle Teilereinigung e.V. (Professional association of industrial parts cleaning) receive free of charge checklists for planning a cleaning process as well as brochures on guidelines for quality-assured process control in industrial parts cleaning.

The companies involved in the theme park 2023:
acp Systems AG
Atec Automatisierungstechnik GmbH
Clentex e.K.
EUROCOLD S.R.L.
EVT Eiberger Verfahrenstechnik GmbH
FiT – Fachverband industrielle Teilereinigung e.V.
KSN Industri A/S
MAFAC - E. Schwarz GmbH & Co. KG
N2J PRO GmbH
vapic GmbH

The process steps presented in the theme park will be accompanied by practical and solution-oriented specialist presentations by various specialists in the expert forum.