Theme Park - Automated deburring with industrial robots
source: August Mössner GmbH + Co. KG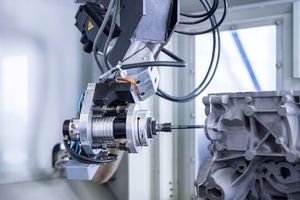 Automation is an important factor for metalworking companies in order to remain competitive in the long term and to compensate for the growing shortage of qualified personnel. However, setting up and programming robots with all of the necessary components is very time-consuming and complex.
Opportunities offered by automated surface treatment will be presented at the theme park for everything from polishing to grinding and deburring parts with robots. Even inexperienced companies can successfully automate their processes. Previously implemented industrial customer applications will serve as examples in order to demonstrate which tasks had to be mastered and how the challenges associated with the implementation of these projects were overcome.

Process:
Feed – position detection – parts handling – quality inspection – automatic machining tool change – post-processing (polishing) – placement/sorting – removal/conveyance
Trade fair offerings will be supplemented by practical, solutions-oriented presentations held by specialists at the expert forum.

Topics:
State of the art – latest developments and trends.
The challenges – cost pressure – profitability – quality

The theme park will provide you with answers to these questions and you'll meet up with competent contact persons for your solutions.