Theme Park – "Sheet Metal Deburring" Process Sequence
© Aumm graphixphoto / shutterstock.com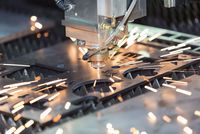 © Lissmac GmbH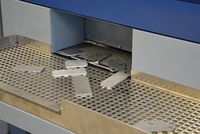 The theme park for the "Sheet Metal Deburring Process Sequence" has been initiated in cooperation with market leaders and experts from the industry sector. The entire deburring process sequence will be presented here, live and in action, as a running production process with associated technology – an industrial exhibition in an unprecedented format.
In addition to process steps originally included in the deburring sequence, i.e. "deslagging, deburring, rounding, oxide removal and surface finishing", downstream process steps will also be presented such as:
Measurement of rounded edges
Pre-treatment before coating
Fettling of weld seems
Latest developments from the field of tool technology
Special finishing processes such as continuous eccentric finishing
Various coating processes (powder, cathodic dip coating, liquid paint)
The following companies will participate in the theme park: Lissmac Maschinenbau GmbH, Jakob LÖWER, Inh. von Schumann GmbH & Co. KG, KUHLMEYER MASCHINENBAU GMBH, QIB Qualitätsgemeinschaft Industriebeschichtung e.V., www.blech-entgratung.de, boeck GmbH and Keyence Deutschland GmbH.
The process steps presented at the theme park will be accompanied by highly practical, solution-oriented technical presentations held by various experts at the expert forum. Qualified industrial engineer and computer scientist Markus Lindörfer of LIMA Ventures GmbH, an independent advisor with many years of experience in the field of sheet metal deburring, will moderate the event and provide the theme park with technical support.
High Levels of Perfectly Matched, Targeted Added Value for Practitioners from the Field of Sheet Metal Processing
Your contact
Gitta Schlaak
Project manager
Phone +49 7025 8434-15
gitta.schlaak(at)fairXperts.de