Issue 01.2016

More and more attention is being focused on the issues of deburring and precision surface finishing by manufacturing companies as a result of increasing requirements for quality, process reliability and productivity, as well as growing cost pressure. However, there's a lack of available information concerning these crucial manufacturing steps.
This has prompted us to initiate a transfer of knowledge targeted at deburring technologies and precision surface finishing, which provides you with free information at regular intervals on various technologies, as well as their strengths and limits, and applications which have already been implemented. Events covering deburring and precision surface finishing round out our information offerings. We deliberately refrain from the use of advertising, which means you're only provided with the content you're actually interested in. The first issue deals with thermal energy machining (TEM).
We would be pleased to receive any brief feedback from you indicating what you think of this somewhat unusual newsletter, and of course any suggestions for topics you're especially interested in. Feel free to giver us the addresses of colleagues who should also receive the knowledge transfer newsletter.

We wish you interesting reading.

Sincerely yours,

Hartmut Herdin
Managing Director
fairXperts GmbH & Co. KG

TEM Deburring – Removing Internal and External Burrs in Fractions of a Second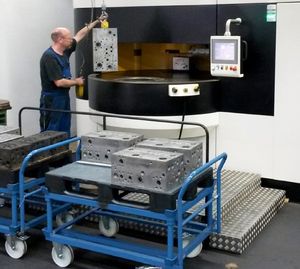 Thermal energy machining (TEM) is suitable for components made of numerous metallic materials and thermoplastics from which internal as well as external burrs need to be removed by means of individual processing or in batch processes – even from very difficult to access places. The range of materials and components for which this process is compatible is being continuously expanded thanks to development work conducted by equipment manufacturers and service providers.
Fast Deburring of Complex Workpieces with Difficult-to-Access Contours
Not every burr on a geometrically complex workpiece is easy to reach. The TEM process makes it possible to remove burrs reliably, efficiently and with consistently high quality where mechanical processing would be either uneconomical or not possible at all.
The parts are positioned inside a bell-shaped chamber for the deburring process, which is hermetically sealed. A precisely defined mixture of gases (e.g. oxygen and methane) is fed to the chamber by means of a gas metering system. It flows through the entire component, or the complete batch. Upon ignition of the gas mixture, burning ensues resulting in temperatures ranging from 2500 to 3300° C. The burrs reach ignition temperature and react with the excess oxygen. This causes complete combustion of all burrs within approximately 20 ms, and their roots are also sealed as a result. Due to the fact that the process lasts just a few milliseconds, the workpieces are only heated up insignificantly. No material is removed from the surface. Overall cycle time is usually less than two minutes.
TEM makes it possible to achieve "sharp-edged / burr-free" deburring quality. Depending on the material, slight rounding of the edges is also possible. Use of this process is limited by the size of the part, as well as in the event that targeted edge rounding needs to be achieved during deburring. Systems are available on the market which are equipped with so-called gas flow meters instead of gas metering cylinders. These systems permit more precise dosing of the gaseous mixture – with improved repetition accuracy as well – which further increases process reproducibility. Furthermore, all process data is logged automatically, thus making complete documentation possible as required by many industry sectors, for example the automotive industry.

Which materials are suitable for TEM deburring?
Deburring for a Great Variety of Metallic Workpieces
The process can be used for workpieces made of oxidisable metallic materials such as die-cast zinc, aluminium and die-cast aluminium, all steels including stainless steel and cast steel, as well as brass and bronze. However, there are limitations where magnesium is concerned, because this material has a strong tendency to continue to burn uncontrollably due to its low ignition temperature and its melting and boiling points. Deburring of titanium components is limited due to its very high boiling point of 3535° C. This also applies to highly heat-resistant materials (e.g. Zirconium), which are commonly used in aviation and aerospace application.
Special TEM Systems for Deburring Plastics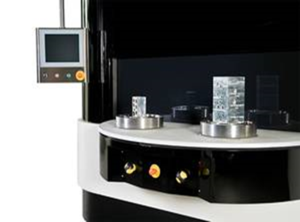 Components made of all thermoplastics such as PA, PE, PTFE, PUR and PMMA, as well as injection moulded parts without fibre-glass reinforcement, can also be thermally deburred. Opaque areas on parts made of PMMA, caused for example by a mahttp://www.deburring-expo.de/typo3/backend.phpchining process, are rendered transparent once again by the TEM process.

The reticulation of foam materials is a special application of the TEM process.
Use of the process with plastics is limited by the respective component's wall thickness, design and burr situation. Special TEM systems have been developed for plastic components in order to permit deburring of a broader range of workpieces. They're distinguished by the fact that the parts can be processed within a significantly lower pressure range. After sealing the deburring chamber a vacuum is first of all generated to this end, and a mixture of oxygen and hydrogen is used. Together, these two factors result in roughly half the explosive energy with the same chamber filling pressure.
Deburring is limited in the case of glass-fibre-reinforced plastics: the burr melts during deburring somewhat more than the glass fibres, so that edges have a jagged appearance when viewed under a microscope. The roughness of the burned edge is also perceptible with the fingers.

What's new in the field of systems technology?
Rectangular Deburring Chamber Simplifies Parts Handling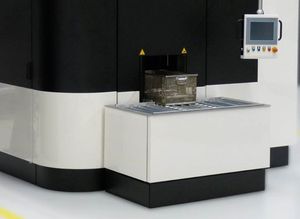 TEM systems with rectangular deburring chambers are a new development. They're used, for example, to deburr die-cast zinc and aluminium parts as bulk goods. Parts handling is significantly simplified and accelerated as a result, because the loaded container can be transferred directly to a parts cleaning system after TEM deburring.

One of the possible applications for systems with rectangular chambers is the deburring of aluminium cylinder heads.

Thermal Deburring – a Versatile Process
Whether hydraulic manifolds and control blocks, safety valves or components made of thermoplastics for medical technology are involved – the range of applications and industrial sectors in which the TEM process is used in order to assure burr-free components is growing steadily.

Several examples are provided below:
Efficient Deburring of Machined Parts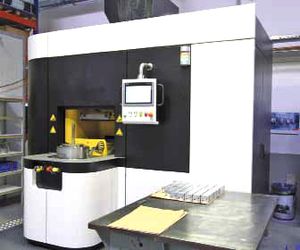 Ever stricter requirements for burr-free, clean machined parts for the hydraulics and pneumatics industries prompted Kögel GmbH to invest in a TEM system. The system makes it possible for the company to reliably and inexpensively deburr a complex range of components. And thus their products meet the most exacting demands with regard to cleanliness and freedom from burrs.
1,450,000 Burr-Free, Clean Components per Day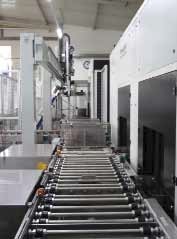 Together with a leading supplier of systems and process technologies for industrial parts cleaning, a concept has been developed for fully automated deburring, cleaning and long-term preservation of steel and stainless steel parts. A total of 1.2 million sleeve nuts made of steel and stainless steel are produced each day for the common rail system, as well as 220,000 cutting rings and 30,000 sewing machine bobbins. A custom tailored TEM deburring system was designed for processing the parts. The cleaning system is also matched to the customer's individual requirements. This solution ensures fulfilment of the strict cleanliness specifications stipulated for the components. Burr-free workpieces are an essential prerequisite in this respect, which can be met efficiently by means of current options provided by the TEM process.
Thermal Deburring for Safe Handling of Gas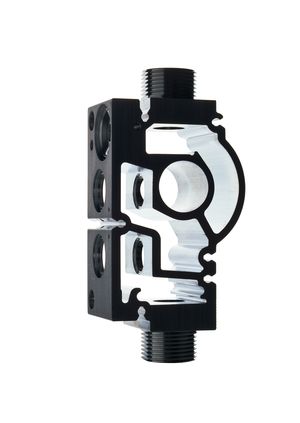 In order to use gas safely, it's absolutely necessary for safety shut-off valves and other associated devices in heating systems to be equipped with reliable shut-off mechanisms. These mechanisms secure, limit or shut off the supply of gas to burners and other heaters, or allow gas to flow. These single-stage automatic shut-off valves are made of solid aluminium, on which burrs and particles are left behind after the machining process. Due to the fact that these remnants can interfere with correct functioning of the safety valves, a renowned manufacturer sends its valves to a service provider for thermal deburring. The process ensures that all of the burrs are removed without a trace – even from difficult to access places. Subsequent parts cleaning in a closed, multi-chamber immersion cleaning system ensures that the parts are cleaned in accordance with the specifications.
Burr-Free Plastic Components for Medical Technology
As is also the case with metals, thermoplastics also have burrs after the manufacturing process which are usually cumbersome and time-consuming to remove. A TEM system developed especially for deburring components made of thermoplastics provides a solution which makes processing much more efficient and reliable. As a supplier to the pharmaceuticals and medical sectors, B. Braun Melsungen AG counts on this alternative. Reliable processing of workpieces is essential, especially in the field of medical technology. The TEM process not only assures effective deburring with good repetition accuracy – significant improvement of surface roughness is also achieved in the case of thermoplastics, making it possible to reduce the costs of other downstream processing steps. Oxygen and hydrogen are used as operating gases.
Deburring Hydraulic Components at 5 Stations
Taiyuan Heavy Industry Co. Ltd. Yuci is located in north-eastern China in the Shanxi province. In China too, manufacturers of high-quality products have aligned themselves to the ever increasing quality demands of the world market. And thus they bank on new technologies and processes which assure the quality of their finished goods with reproducible accuracy. The company has been working with a TEM system since 2014 which was specially modified for its own individual deburring requirements for components used in the hydraulics industry. It's not only equipped with a chamber with reduced height, it's also the first deburring system of its size with a 5 station rotary indexing table. This highly efficient solution makes it possible to process the company's entire range of products in an optimised fashion.

Knowledge for Optimised Deburring Processes
2nd Trade Fair for Deburring Technology and Precision Surface Finishing
10 to 12 October 2017 in Karlsruhe, Germany
DeburringEXPO is the only trade fair which focuses exclusively on deburring technologies and precision surface finishing. It presents the world's most comprehensive offerings in these fields. The programme is rounded out by the three-day expert forum with simultaneously interpreted presentations (German <>English).