Issue 02 - May 2017

Deburring, rounding and the production of precision surface finishes appear not only to be issues on which manufacturing companies are focussing more and more attention, but rather for which there's great demand for information amongst the users as well. This is at least suggested by numerous positive reactions to our first knowledge transfer for deburring technologies and precision surface finishing. Thank you for this feedback.

The second issue is dedicated to barrel finishing. In recent years, this time tested technology has drawn attention to itself due to various further developments and has significantly expanded its range of applications. This newsletter also deals with the issue of abrasive flow machining (AFM).

Would you like to be provided with information concerning a special topic in the fields of deburring, rounding or the production of precision surface finishes? Let us know what you're interested in. This will make it possible for us to better adapt our knowledge transfer for deburring technologies and precision surface finishing to your requirements. Feel free to send us the addresses of colleagues for whom this somewhat unusual newsletter would also be useful.

We wish you interesting reading.

Sincerely yours,

Hartmut Herdin
Managing Director
fairXperts GmbH & Co. KG

Barrel Finishing – a Process with Innumerable Possibilities
Barrel finishing is used primarily for batch or individual processing of metallic workpieces, although moulded parts made of rubber and plastics, as well as ceramic, glass, wooden and stone workpieces can also be processed. The spectrum of applications ranges from descaling and cleaning, as well as deburring and edge rounding, right on up to high-gloss polishing. External and internal surfaces, as well as selective component areas, can be reproducibly and reliably processed. This great diversity of applications is made possible by various types of machines and different settings, as well as a variety of process media for wet and dry processing.

With barrel finishing, the processing of either lots or individual parts is based on relative motion between the workpiece and the application-specific tool (abrasive particles) in a barrel. In the case of wet processing, which is the most common method in actual practice, a compound dissolved in water is also made use of. Its job is to absorb the abraded debris from the workpieces and the abrasive particles, and remove them from the process. The compound can be equipped with additional attributes as well, for example corrosion protection, antifoaming, degreasing and optimisation of wastewater treatment.
Barrel finishing is normally a discontinuous process. However, the process can be run continuously, automated and incorporated into an interlinked production line through the use of separating and conveyor systems for the components and the abrasive particles, as well as specially designed containers.
Process Variants for Application-Specific, Matching Solutions
Relative motion is generated in different ways depending on the type of machine. Essentially, differentiation is made amongst three process variants. Only the most commonly used machine variants and innovative developments will be introduced here.

Machines in which Relative Motion is Generated by means of Vibration
Trough and round vibrator systems fall into this category, which are used to process stamping, castings, formed parts and forgings, as well as machined workpieces. These machines make use of off-balance rotary motors in order to vibrate the work container. The materials in the machine are churned in a screw-like fashion as a result – the workpieces and abrasive particles are accelerated at different rates and are thus rubbed against each other.
Due to the fact that round vibrators are highly versatile and efficient, they're the most commonly used type of vibratory barrel finishing machine. These systems, which are usually equipped with an integrated sieve for separating the abrasive particles from the workpieces, can be easily combined with drying and transfer units.
Trough vibrators are used for workpieces which are too large and heavy for round vibrators. The workpieces are usually processed loose in the trough. Sensitive workpieces can be protected against damage by means of special clamping devices, or by processing them in separate chambers.

Processing in a Rotating Mass of Media
Amongst others, this concept involves centrifugal systems, as well as so-called surf, stream and pulse finishers.
In centrifugal disc finishing machines, the mixture of workpieces and abrasive particles is located in a stationary, cylindrical work container in which a disc rotates at high speed. The resulting centrifugal force presses the mixture against the container's wall, which rises until it once again falls due to gravitational force, after which it's accelerated once again. As compared with vibratory barrel finishing, this results in significantly more intensive relative motion between the workpieces and the abrasive particles, making it possible to increase performance by a factor of up to 30. The range of possible processes includes deburring, rounding, smoothing, grinding and polishing. Accurate results are also reproducibly obtained for sensitive workpieces.
Surf, stream and pulse finishing machines involve system concepts for individual part processing which can be easily integrated into automated production lines. These new developments permit highly accurate, reliable deburring, edge rounding, smoothing, grinding and polishing of high-quality, geometrically complex components such as machine cutting tools and implants, as well as motor, gearbox and turbine components – matched to manufacturing cycle time. These are tasks which have usually had to be completed manually in the past by means of time-consuming, costly processes because no automated solutions were available.
In the case of surf finishing, parts are handled by one or more robots. The robot removes the part or parts to be processed from the feeder by means of a gripper system which is matched to the workpiece and immerses it into the rotating work container which is filled with the task-specific process medium (for wet or dry processing). The robot then moves the part through the medium in accordance with a previously saved, manually or automatically selected processing programme. The robot can incline the workpiece to various angles, rotate it or keep it in a stationary position. And thus depending on the task at hand, either the entire workpiece, a certain area or various specified portions of the component "surf" through the abrasive particles so that targeted, selective processing is also possible. Ra values of less than 0.04 µm can be achieved.
In the case of stream finishing systems, the workpieces are clamped in a holder and immersed into a rotating container which is filled with a grinding or polishing medium. The actual working motion results from the circumfluent process medium, and additionally from the workpiece which is also rotating. Extremely fine surfaces with peak-to-valley heights of Ra 0.01 µm can be produced even in the smallest chip flutes in this way. The stream finishing process permits very short processing times and easy automation, with high levels of process reliability at the same time.
The concept of pulse finishing is based on ideally matched relative motion between the processing medium and the workpiece. For example, the workpiece is secured in a clamping collet and accelerated to a speed of up to 2,000 rpm, decelerated and accelerated again in a rotating bowl within a very short period of time and so forth – which is where the name pulse finishing comes from. Interaction with the inertia of the processing medium – i.e. due to the different speeds of the workpiece and the abrasive particles – results in targeted grinding action with accurate deburring, even in areas which have previously been inaccessible for barrel finishing, for example cross-holes in hydraulic components.

Drag Finishing – Processing in a Stationary Bed of Media
This barrel finishing variant is also suitable for deburring, grinding and (high-gloss) polishing of components with high unit prices, as well as sensitive parts which must not touch each other during processing. In the case of drag finishing, the workpieces to be processed are immersed into a stationary mass of abrasive particles after being secured to a rotating fixture which is attached to a carrier turret. Rotation of the turret and rapid turning motion of the work spindles result in high contact pressure between the workpiece and the process medium, thus permitting fast, uniform processing.
Process Media – Decisive for Economic Efficiency and Process Reliability
In addition to selecting the right machine and a suitable process, work results, efficiency, process reliability and sustainability also depend decisively on the utilised abrasive particles and, in the case of wet processing, the compound.
Significant criteria include material, quality, shape, size and separability of the abrasive particles. Fundamentally we can say that in the case of soft materials, resin bonded abrasive particles are usually used, whereas hard materials such as steel are processed with ceramic process media. Ideal matching of the shape of the abrasive particles to the geometry of the workpieces assures that all of the contours can be accessed, and that no jamming occurs. The size and weight of the abrasive particles influence grinding performance and finish – grinding performance becomes more intensive and the finish rougher as the abrasive particles get larger and heavier. An adequate difference in size between the abrasive particles and the workpiece permits quick and adequate separation.
The primary task of the compound is to keep the surfaces of the workpieces and the abrasive particles clean, and to assure constant levels of quality for the barrel finishing process. It's selected appropriately on the basis of the material to be processed, the application, the compound's attributes and the targeted processing goal.
Ideal matching of all of the components involved in a barrel finishing process to the respective task is usually accomplished by means of trial runs conducted in the manufacturers' test centres.


Abrasive Flow Machining – Deburring with a Viscous Grinding Mass
Abrasive flow machining (AFM) is used primarily for deburring, edge rounding, grinding and polishing of difficult to access workpiece areas and internal surfaces which cannot be processed by means of conventional procedures. Processing is accomplished by means of abrasive particles, the type, size and concentration of which are matched to the respective task, and which are embedded in a polymer plastic mass of defined viscosity. This grinding medium is caused to flow through or over the area(s) of the component to be processed in alternating directions at a defined pressure level by means of hydraulically powered pistons. Traditional applications include demanding metallic and ceramic components from the automotive and aviation industries, turbine manufacturing, medical technology and fluid engineering, food processing, mould and toolmaking and general machinery manufacturing.

Practical Solutions / Applications
Barrel Finishing and Abrasive Flow Machining– the Ideal Solution in Many Cases
Barrel finishing and abrasive flow machining represent a technically and economically ideal solution for a great diversity of deburring, grinding, rounding and polishing tasks.
Several examples are provided below:
Deburring Plastic Parts
More and more frequently, growing demands placed on the precision of moulded parts made of plastic necessitate reliable deburring before further processing or assembly. A centrifugal disc finishing machine has been developed for this purpose, with which burrs can be efficiently and reproducibly removed from parting line and core puller areas on moulded parts made of thermoplastics and thermosetting plastics (with/without compound). Beyond this, the system is also used when burrs resulting from machining processes need to be gently removed from plastic parts.
Smoothing of Additively Manufactured Otoplastic Parts
So-called otoplastic parts for hearing aids and hearing protection are made of special plastics by means of a rapid manufacturing process. The manufacturing process results in a rough surface, which would not be suitable for the human ear with regard to both fitting accuracy and comfort. For this reason, a process was developed by means of which the ear moulds are ground in a disc finishing machine within a relatively short period of time. The machine's special design permits very high-quality, damage-free, reliable and fast smoothing of the surfaces of the sensitive workpieces. Time-consuming manual grinding with results of varying quality is eliminated.
Process Optimisation for Drag Finishing by means of Automation
Where drag finishers are concerned, an advanced machine technology makes it possible to automate parts handling with robots or handling systems, thus permitting fully automated processes. A corresponding system solution is used, for example, by a leading full-line supplier of precision metalworking tools which permits fully automated deburring of variously sized tooling components. The custom tailored system consists of two interlinked drag finishers with automatic feeding of workpieces to each of the six work spindles by means of a robot. The positioning precision required for the workpieces (accurate to 1/10 mm) is assured by a safety feed concept. The work spindles are positioned by the drag finisher's controller. Pneumatic workpiece clamping at the work spindle is continuously monitored by an initiator. During the drag finishing process, the workpieces are moved through the stationary process medium in accordance with the part-specific programme, and are subjected to uniform flow on all sides. After the specified processing time has elapsed, the robot removes the tooling components and feeds them – depending on the programme – first to the cleaning station located next to the drag finisher, and then places them onto a tray.
Pulsating Stream Finishing for Cam Shafts
A stream finishing solution with pulse drive for deburring, rounding and smoothing cam shafts has been implemented for full integration into a production line for mass production in the automotive industry. With the help of a centrally located handling cell, two stream finishing machines are loaded and unloaded automatically via lift doors. A separate conveyor belt which is integrated into the handling cell is used for transfer from the system to the main gantry. Eight workpieces can be processed simultaneously, resulting in a cycle time of 17 seconds. The workpieces are clamped by means of laminar expanding mandrels. The workpiece, which is attached to a spindle, is immersed into a container with a special, fine-grained grinding medium. The container rotates at speeds of up to 60 rpm while the spindle with the workpiece oscillates at a rate of roughly 2000 rpm. It's accelerated to 2,000 rpm within one second, decelerated and then accelerated again to 2,000 rpm, and so forth. The spindle can also be swivelled up to 25°, so that the flow of grinding medium can be adapted to the workpiece's geometry. Less than one minute of processing time is required in order to reduce peak-to-valley height from, for example, 0.2 to 0.1 μm. After processing, the workpiece is cleaned by means of blowing and returned to the customer's production process. 3,500 to 4,000 workpieces can be processed each day.
Significantly Extended Service Life for Tools
Forming and moulding tools are subject to wear which is decisively influenced by surface finishing quality. However, this surface finishing work is still frequently conducted by means of time-consuming, costly manual processes. In the case of geometries such as those found in crimping tools, for example, the roughness peaks are pressed into the surface of the workpiece as a result. Optically, the surface appears to be defect-free, but it cracks during use and the resultant damage may put an end to the tool's service life. In this respect, abrasive flow machining (AFM) not only permits a reproducible automatic process, it also provides for significantly better surface finishing quality because the roughness peaks are removed all the way down to the base material, thus resulting in a very homogenous surface. This often leads to service life increases of 250% to 300%.

Qualifications / Further Training
Knowledge for Optimised Deburring Processes
Deburring and precision surface finishing, as well as industrial parts cleaning, contribute to compliance with specified product quality levels, precision and functional safety, as well as the minimisation of scrap and thus reduced costs. As a prerequisite, however, the utilised processes must be ideally adapted to the task and must assure high levels of process reliability and economic efficiency. This, in turn, necessitates extensive knowledge of the various technologies. We can tell you where to find this knowledge:
2nd Trade Fair for Deburring Technology and Precision Surface Finishing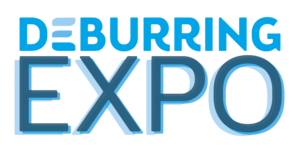 10 to 12 October 2017 in Karlsruhe, Germany
DeburringEXPO is the only trade fair which focuses exclusively on deburring technologies and precision surface finishing. It presents the world's most comprehensive offerings in these fields. The programme is rounded out by the three-day expert forum with simultaneously interpreted presentations (German <>English).
To the Website

With friendly support provided by 4MI GmbH, Avatec GmbH, Fraunhofer IPK, OTEC GmbH, Rösler Oberflächentechnik GmbH and Walther Trowal GmbH & Co. KG.